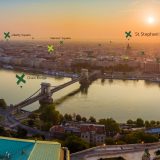 Buda Explorer
Best Bike Rental & Tours in the City!
Our Tours
OPENING HOURS
Opens April to October 2022:
7 days a week from 10:00am – 6.00pm
Telephone: +36707441767
Bike Rentals & Tours still available by appointment!

Bike Rental Experts for the Danube Bike Trail!
Customers trust our experience

Tour Guarantee
100% guarantee your tour will go ahead, no minimum numbers

Great Tours
Tours designed by travellers for travellers
Our Most Popular Tours!
'The Best of the Best'
Tour start: 10 AM
Duration: 3 hours
Price: 45€/person

Tour start: Flexible
Duration: 2,5 - 3 hours
Price: 125€ + 15€/bike

Tour start: 9 AM or 2 PM
Duration: 4 hours
Maximum 7 people
City Bike Rental
Half Day, Full Day or longer...
All Inclusive Bike Packages from Vienna to Budapest to Belgrade
Includes:

7- Day Bike rental
Delivery or pick up from Budapest
Equipment: Locks, panniers, helmets, repair kit

Includes:

12- Day Bike rental
Delivery or pick up from Belgrade
Equipment: Locks, panniers, helmets, repair kit

Includes:

14-day Bike Rental
Passau/Budapest delivery and pick up
Equipment: Locks, panniers, helmets, repair kit